WISMEC CB-60 with AMOR NS Kit
Brand:

 WISMEC

Unit: set
Net Weight: 400(g)
Combined shipping cost will be calculated automatically by the system after you choose shipping destination in the checkout step.
Product introduction
WISMEC CB60 KIT, the first device specifically designed for High Nicotine and Nicotine Salt Eliquid, boasts its inbuilt 2300mAh battery with 2A quick charge system. Max 60W output wattage and features 180 degrees rotated screen display mode, stealth function and key lock function. Compact yet simple, the CB-60 (Check Bunny 60watt) focuses on MTL vaping, aiming to provide a tight airflow similar to a cigarette. The AMOR NS tank with new WS03 horizontal coil is a simplistic design for easy juice fill and low maintenance for the user. The CB-60 with AMOR NS is a great conversion device for smokers and a great entry-level device as well.
Parameters
Mod Size: 22.6*36.9*75.9mm
Tank Size: 45mm(H)x 25mm(D)
E-liquid Capacity: 2ml/4ml
Output Wattage: 1-60W
Input voltage: DC 5V
Maximum Charging Current: 2Ae
Output Voltage Range: 0.5-9V
Battery Capacity: 2300mAh
Thread Type: 510 spring loaded connector
Color: Black, Bronze, Silver, Purple, Green
WISMEC CB-60 with AMOR NS Kit comes with
1x CB-60 MOD
1x AMOR NS
1x WS01 Triple 0,2ohm Head
1x WS03 MTL 1.5ohm Head
1x QC USB Cable
1x User Manual
Spare Parts
Features
1. Specifically Designed for High Nicotine and Nicotine Salt Eliquid
2. Providing the Ideal Mouth To Lung (MTL) Experience
3. Stealth Function & Key lock Function
4. Switch the display mode. Can rotate 180 degrees
5. Compact, Portable and Affordable & 0.91inch Display with All-New Concise Interface
6. Temperature Protection for Safer Charging
7. Inbuilt 2300mAh Battery with 2A Quick Charge
8. New WS03 MTL 1.5ohm Head for Intense Flavor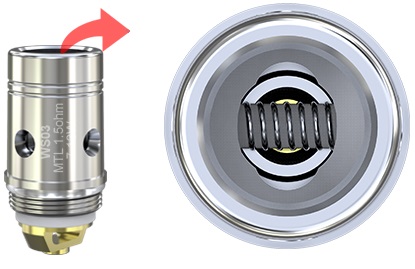 9. 2A Max Charging Current for Quick Charge
with 2A maximum charging current, the mod can be fully charged more quickly than normal ones.
10. Dual Circuit Protection
11. Top Filling Solution & Bottom Airflow Control
12. Micro USB Charging